Hello! If you found your way to my blog through the
Counterfeit Kit Challenge Blog Hop
, welcome! If this is your first time here, I hope you'll take a few minutes to check out some of my other posts. If you're one of my regulars and want to follow along with the entire hop, you can begin at the
Counterfeit Kit Challenge
site.
I've been following the Counterfeit Kit Challenge for a while now, but this is the first month I actually made a kit and actively participated. You can see the
"original" kit here
, and my
"counterfeit" kit here
.
For this Design Team Inspiration Challenge, we were asked to visit the Design Team's blogs and be inspired in some way to create a project using our own kit. There were so many great projects to choose from, but I ultimately was inspired by
this layout
by
Jemma aka JimJams
.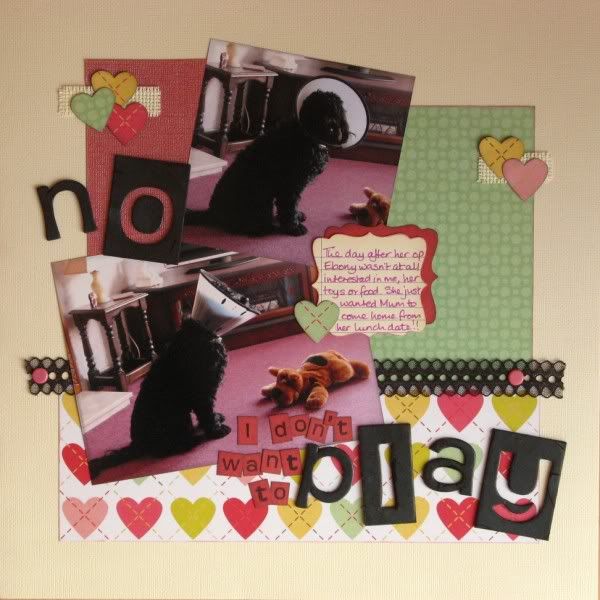 I think I was drawn in by the cute doggie pictures as well as the overall design. I ended up doing a pretty straightforward scraplift of her design, even using my own "cute doggie" picture!
The sweetie-pie in the picture is my four-year-old Chocolate Lab, Melody, who is a very willing model! I kept the layout fairly simple, choosing to layer lots of patterned paper, and go easy on the embellishments. Those little acrylic flowers are by Webster's Pages, and I love them, so sweet and tiny! They were a recent purchase, but everything else had been in my stash for a few months to a few years!
My page uses patterned paper from three different manufacturers (Echo Park, Bo Bunny, and Scenic Route) which is quite a departure from my usual one-coordinated-line per page style, but I'm happy with the result. Definitely need to do this more often!
Thanks for stopping by! Your next stop on the hop is
Julie Ann
. Enjoy!