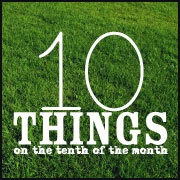 It's been a while since I've participated in Shimelle's 10 things on the 10th. But I have been a scrapping machine the past few weeks, participating in
Shimelle's Pretty Paper Party class
as well as
Lain Ehman's LOAD 213 Challenge
, and I have a lot of layouts to share!
LOAD Day 1: Wordless layout
LOAD Day 2: Scrap a perfect day
LOAD Day 3: Focus on an important but overlooked item
LOAD Day 4: Scrap a goal. I went with a layout from Cathy Zielske's Move More, Eat Well class (that I bought last year but never completed, or really even started!)
LOAD Day 5: Scrap your honey
LOAD Day 6: Create a page you've been putting off
Based on a sketch from Scrapbook Generation
LOAD Day 7: Create a page about nature
Based on a sketch from Shimelle's PPP class
LOAD Day 8: Prompt was to scrap a smell, but I went for sight instead...the beginning of Blizzard 2013!
LOAD Day 9: Scrap a childhood photo
Based on a sketch from Shimelle's PPP class
P.S. Has anyone ever seen this toy before? I would love to know what it was called!
LOAD Day 10 is still in progress, so here's one from last month for Shimelle's PPP class
Thanks for stopping by! To see more 10 on the 10th posts, go to
Shimelle's blog.